This post may contain affiliate links. This means, if you make a purchase from a link on this page, I may receive a small commission at no extra cost to you. You can find our entire disclaimer here.
Sometimes, Mothering the Storm (Lacyestelle.com) accepts informative, creative and helpful guest posts. This post is a guest post, submitted by Valentina Wilson. Thank you for reading.
How can a mother financially plan for her child's future?
You are a mom, and it takes a lot of courage to take up this responsibility and accept such a challenge. You're facing hurdles but you are using them like a pro in your life! Right? That's the unique quality you moms bear.

---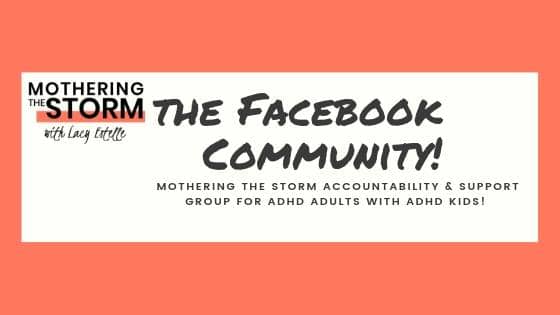 Click Here to Join the Mothering the Storm Facebook Group! An Encouragement Group For Parents who have ADHD and are also caring for an ADHD Child!
---
You admit or not, finance is directly involved in our life. And when it is about bringing up a child, you need to be emotionally tough and financially practical. You have to chalk out an effective financial plan for you and your child irrespective of whether you're a single mom or share the responsibility with your spouse.
A planned life is much required to improve the living quality.
Let's check out how you can plan a better future for your child and family.
1. Review your budget at the onset of planning
Budget planning is the foremost part of any financial planning. But that doesn't mean you'll follow a stagnant budget. Instead, make certain changes according to the fluctuation in your income and expenses. Even if you plan a realistic budget, you need to revisit and modify it from time to time.
Raising a child is not a joke! It needs proper care and attention. You have to look after the proper nutrition of your child along with saving for the little ones' future. You need to cater to every need of your child.

You can provide such love and care when you are financially strong. So, plan a budget to track your expenses and income. Furthermore, it'll help you to figure out the savings, an integral part of good financial planning.
2. Have an emergency fund and maintain it properly
Having an emergency fund and maintaining it properly is a sign of well-formed finance. "Emergency" should be treated as an emergency; make sure that you are not pulling out the cash for an insignificant reason.

Irrespective of whether or not you're the sole breadwinner of your family, you should deposit a considerable amount every month in a fund. Don't hurry but take your time to select a savings account for your emergency. Choose a high-yield savings account to earn a little bit extra from your savings. Try to have about 3-6 months worth of your lifestyle expenses in this fund.

And, when you have to use your emergency fund, replenish it as soon as possible.
3. Purchase adequate health insurance coverage
Any type of medical emergency is to some extent financially draining. So, purchase adequate health insurance coverage for your family so that you can afford the right medical care in need. Moreover, it can help you keep your lifelong savings intact.

Even if your or your partner's employer is offering health insurance policy, consider opting for extra coverage if you need it. If needed, you can go for a top-up plan too.

You can also claim for a tax deduction on your income tax for the premium you pay towards the health insurance policy.
4. Buy life insurance to counteract misfortune and create a will
You don't know what is waiting for you next! Actually, nobody can predict! So, it is best to plan in advance in case of any misfortune. This plan is nothing but purchasing life insurance keeping in mind about your child's future. The fact is that your child is financially dependent on you. In an unforeseen circumstance, at least you'll be assured that your child is financially secure.

That's why many financial advisors suggest buying a life insurance policy whether you are a couple or a broke single mom.

Along with it, you should also create a will to appoint a legal guardian for your children and to clearly specify that your children are the beneficiary.
5. Take an oath to stay debt free
Living a debt-free life is a good strategy in case of any financial planning. As you are planning financially for your child, it is a prudent thought to live a debt-free life or to pay off debts as soon as possible.

Let's check out some of the debt consolidation options:
Debt consolidation program
When you enroll in a debt consolidation program, all your debts get consolidated into a single monthly payment. You'll get a reduced interest rate and usually become debt free within 3 to 5 years.
Credit card balance transfer
You can use this option to pay off your multiple credit card debts by taking out a new card at a comparatively lower or 0% interest rate. You just have to make sure that you're paying back the transferred balance within the low introductory period.
6. Don't forget to plan for your child's education
As per ValuePenguin, the average cost of college in America in 2017-2018 was about $20,770 for public schools and $46,950 for nonprofit private schools including fees, tuition, room, etc. Every year education cost is leaping aggressively. As a result, it is getting harder to bear that cost for higher education.

If you like this post, you might also like:
To ensure the continuation of your child's education, you should opt for an education plan like a 529 plan. It is an investment account where you don't need to pay taxes on the earning and withdrawal amount. There is no certain time limit to use this fund. So, you can use it when you need it.

You'll see two categories in this plan. While one is a regular college savings plan, the other is a prepaid tuition plan. I'll suggest you to opt for a college savings plan as it is more flexible and straightforward than a prepaid plan. You can use cash of college savings plan for any educational purpose whereas prepaid plans set limits on spending like on room and board.
7. Educate your child about financial basics
It is your responsibility to teach your children how to manage finances effectively. To do so, when your children are a little grown up, involve them while planning your budget. Take their inputs and respect their views.

When you visit a grocery store, hand over the list to your children and ask them to pick items as per the list. When you make a decision on what to buy, explain to your kids how you are making the decision.

Also, allot them an amount and ask them to manage it properly. They should save a certain amount and spend the rest from their allowance. Also, encourage your children to do simple household chores, and in return, give them pocket money.

Through these activities, they will learn the value of money and the basic principles of managing money.

I know it is quite difficult to raise a child as it gives you added stress. But, there are also ways to conquer mom-stress without losing patience. When you're in doubt, list them all and then focus on a single problem at a time. Give yourself enough time to resolve the things and get back on the track.

The more you are stress-free, the more effective financial plan you'll make for your child.
So, live a stress-free frugal life that can also motivate your child to live alike!
Mom is emotion, mom means care…
Mom is the safest place you can take shelter!
Mom is the solution to each problem you have…
She is a mind reader and your only solace!
Mom is magic gifted by God…
She is an amazing feeling whenever she is in your thoughts!!!
---
Valentina Wilson is a personal financial blogger. She loves to analyze personal financial matters and help others manage their finances in a better way. Traveling is also her passion. She loves to travel and explore different places all by herself.
To learn more about her, go to Bestdebtconsolidation.org, or follow her on Twitter@Valenti11423079