This post may contain affiliate links. This means, if you make a purchase from a link on this page, I may receive a small commission at no extra cost to you. You can find our entire disclaimer here.
People of all ages with ADHD, from parents to children, thrive on external schedules. School schedules can help us with our time management skills, whether we're in the classroom or waiting for our kids outside of it. Transitioning from that beneficial struggle to the wild openness of summer vacation can feel overwhelming for all of us.
Vacations can take that already overwhelming feeling into overdrive. As parents, we must plan and execute the vacation. Planning and staying calm through new, often hot environments over summer vacation is extra challenging for us with ADHD. Luckily, there are some tips and tricks we can use to manage a summer family vacation with ADHD. I've collected them for you below.
---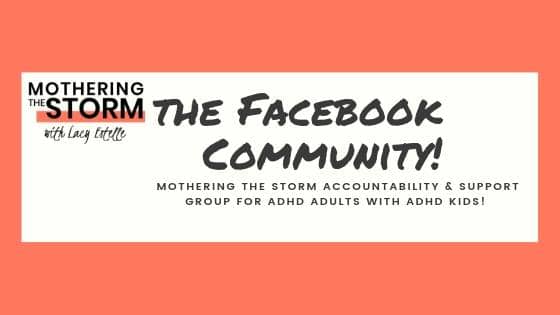 Click Here to Join the Mothering the Storm Facebook Group! An Encouragement Group For Parents who have ADHD and are also caring for an ADHD Child!
---
Create a Strategy To Avoid and Mitigate Triggers
Just like many neurotypical people, people with ADHD have triggers. This goes for children and adults. As we start to consider the family vacation, we should consider previous experiences with triggers. Write down all the triggers you can remember for each person, and then write down strategies to avoid them altogether. Some triggers are out of our control, though, so write down tested strategies that can soothe triggered minds. Keep this sheet of strategies in a brightly colored folder so that you can easily find and reference it during your trip.
Include a Daily Success on the Itinerary
One way you can avoid triggering yourself and other people with ADHD in your family is to plan for something successful every day. Consider what you and your loved ones do best. Maybe you love to paint, and your teenage son plays an instrument. As you plan your itinerary for the vacation, dedicate a section of each day to doing these successful activities. Even if you experience triggers or feel overwhelmed during the trip, this time can help you feel accomplished and happy.
Give Everyone a Copy of the Itinerary
After scheduling successes and making a schedule for the rest of your vacation days, you'll have an itinerary. An itinerary is a great way to create the external schedule we love from school days. Give each person in your family a copy of the itinerary. Some may prefer a paper copy, while others prefer a digital copy, so have both options open. They both will help with time management skills during the vacation.
If You Like this post, You might also like:
Make Time To Play
All humans need to move, play, and laugh. Your family vacation is the perfect time to make that happen! Whether you're camping along a river or enjoying a stay at a beachfront hotel, you can make time to play together. Play I Spy around your campsite or go jump in the hotel pool together. Whatever you and your kids think is fun, embrace that.
Be Gentle With Yourself and Others
Vacations are hard for all families, but more so for those with ADHD. Even if you plan an itinerary that avoids triggers, includes success moments, and embraces play, you may still struggle. No plan or vacation is perfect. There are overnight items you may not think to pack for a river trip, or a storm could derail your plan. All of that is OK. Be gentle with yourself and others in your family. Ask for help and draw strict boundaries when you need to.
Managing a summer family vacation with ADHD is challenging but rewarding. And if you make mistakes, you can use those to build a better vacation experience next time. Enjoy your time together as a family!