This post may contain affiliate links. This means, if you make a purchase from a link on this page, I may receive a small commission at no extra cost to you. You can find our entire disclaimer here.
Most schools—at least back before I graduated—and work environments are not catered to or created with ADHD in mind. Between our fluctuating focus and short-term memory fogs, navigating such establishments with ADHD comes with some challenges. However, with the right tools and coping skills, we can provide ourselves with all the best resources to make our work and learning conditions more beneficial to our needs. Check out these three ADHD-friendly tips for improving work organization, and let's thrive in the workplace.
Create Visual Reminders
I don't know about you, but colorful sticky notes cover almost every inch of my work desk, including my computer monitor. Although the various slips of paper look chaotic to most people, I find the many eye-catching notes a great way to capture my attention and remind me of important information. Whether reminders about scheduled meetings, daily tasks, or little helpful tidbits like motivational quotes and work feedback, these notes help a scattered brain be more navigable. Aside from sticky notes, visual reminders come in many other forms, including the following:
---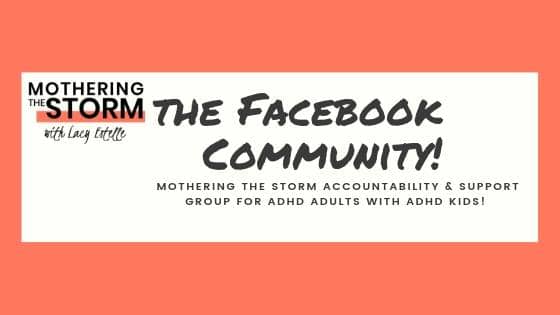 Click Here to Join the Mothering the Storm Facebook Group! An Encouragement Group For Parents who have ADHD and are also caring for an ADHD Child!
---
A colorful digital and timed notification on your phone and computer
Whiteboards and chalkboards
Color-coded planners
Note cards on a pinboard
A drawn mindmap of doodles and sketches
Video and audio notes
No matter your creative preference, any visual reminder helps you stay on track. Respark your memory and stay on task with helpful, visually pleasing reminder notes.
Pack Your Work Bag the Night Before
Time always seems to slip away when I need it the most, especially during work mornings. The rushing around before heading into the office doesn't help my situation either. Trying to do something quickly and under pressure can sometimes scatter my brain even more, making me forget other important things like my work bag and necessities.
If you're like me and experience memory fog and time warps before work, pack your bag and place it near the door or even in your car the night before. This increases your chances of showing up to work prepared. Not having to pack in the morning also streamlines and speeds up the process of leaving for work. Using a bag with essential and beneficial work bag features like multiple storage solutions further improves organization and makes it easier to find items at work.
Set Alarms To Pull You From Hyperfocusing
Concentration sometimes vanishes, making my brain constantly hop from one thing to another and back. At other times, I'm too invested in a task that I lose track of time and forget about the other items on my to-do list.
Hyperfocusing is a classic example of something to love and hate simultaneously. It helps us stay focused and motivated on a task, consider all the little details, and curate quality work. However, hyperfocusing also means a reduction in quantity, which many workplaces prioritize and strive for. Setting alarms for tasks can pull back your attention and gently remind you to wrap up and move on—just be sure to watch out for the snooze button.
If you're struggling to stay organized at work, whether it concerns your time management or preparation, try these three ADHD-friendly tips for improving work organization. Work with your ADHD, not against it, and thrive in the workplace.